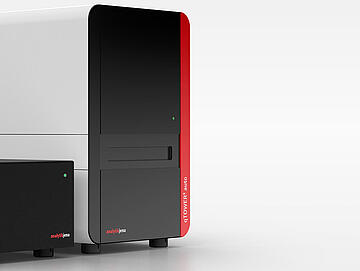 qTOWER³ auto
Real-time PCR meets automation
High-end qPCR solution for automated research

Smooth integration into computer-controlled workflows

Sophisticated design with reduced footprint
Scalable solutions according to throughput needs
Optimize your qPCR workflow and reduce your costs without compromising reliability and data quality. With qTOWER³ auto, a compact, automatable real-time PCR thermal cycler, even high sample numbers can be handled safely and cost-efficiently. The fast and sensitive analysis and quantification of DNA samples is reproducibly ensured by the excellent performance of the qTOWER³ auto, as it is based on the proven technology of the qTOWER³- family.
Simple device integration
Increased throughput with up to 4 devices in one LH system
Device security and automation extends walkaway times
Standalone operation possible
Increase your performance through design
Based on lab automation demands, the qTOWER³ auto with its decoupled power module and a freely accessible sample plate tray offers a reduced footprint. In developing the system, special emphasis was placed on compatibility with the common manufacturers of robot arms and automation systems. The unique, patented, motorized plate lifter system simplifies workflows by allowing gentle lifting of the sample plate to release it safely from the sample block, while the innovative labware detection function reliably detects any improper sample plate loading. Discover our solution to provide you with confidence in your system and free up resources to focus on value-adding activities.
Modular design to fit on nearly all benchtops
Free access to the sample plate tray
Maximum workflow security through a unique labware detection function
Patented plate lifter system ensures an easy loading and unloading of the sample plate
qTOWER³ auto – Product Animation
qPCRsoft
Intuitive controls, automated evaluation and fast analysis
The qPCRsoft auto, our real-time PCR control and evaluation software, provides you with intuitive controls and automated evaluation in a flexible and user-friendly system. The software works automatically, providing a multitude of operations, such as the threshold calculation for the determination of Ct values, standard curves, PCR efficiencies, and advanced evaluation methods. Your ease of use is our priority.
An optional 21 CFR Part 11 software module for the qTOWER³ auto family is available, which supports compliance with 21 CFR Part 11 FDA guidelines for electronic data security.
Fast & powerful analysis
Exceptionally wide range of methods
Various data transfer options
21 CFR part 11 compliant (optional)
Consumables for this Device
Contact us
We are happy to help you and will contact you as quickly as possible.