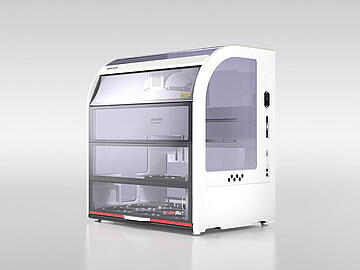 CyBio FeliX
Automated liquid handling made easy
Free yourself from repetetive manual pipetting
Save valuable laboratory space
Expand your experimental possibilities
Be ready for upcoming developments
CyBio FeliX — Designed for your Lab
Is time of the essence? Is your laboratory space limited? Would you like to save on costs? Then we have the pipetting platform for you. Optimize your work processes with CyBio FeliX, a liquid handling system adaptable to your requirements.
Time-saving – the fully automatic system allows you to concentrate on future application developments
Space-saving – compact design for every laboratory
Individual – Adaptable and flexible, CyBio FeliX can be expanded to meet your needs
Cost-saving – With its interchangeable heads and adapters, CyBio FeliX allows you to save by miniaturizing samples and reagents.
Fully automatic multichannel pipetting system
The CyBio FeliX is a flexible and fully automatic multi-channel pipetting robot. The modular system consists of a basic unit, with a unique two-level deck system and easy-to-change pipetting heads. The pipetting heads can automatically switch between different pipette tip magazines, pipetting tools, and other instruments (such as grippers). Further accessories such as tip-washing stations, reservoirs etc. are available as well.
Unique, compact design with 12 positions on 2 levels
Closed stand-alone system, optionally without housing for a laminar flow workbench and for integration into automation systems
Flexible pipetting system for 1 - 384-channel operations featuring exchangeable pipetting heads and an automatic change of liquid handling adapters
#HowToFeliX
CyBio FeliX is a versatile and flexible pipetting platform. Whether MALDI sample preparation, genetic engineering, nucleic acid extraction, cell application and many more – the CyBio FeliX is suitable for the automation of virtually every laboratory workflow.
Automated nucleic acid extraction and (q)PCR setup
The combination of CyBio FeliX and the corresponding Extraction Set offers the solution for automated nucleic acid extraction in the 96-well format, which is coordinated down to the smallest detail. With only a few additional configurations the CyBio FeliX can also be used for the subsequent creation of a (q)PCR setup.
CyBio Composer Software
Powerful scripting environment
Direct access to all hardware functions and liquid handling parameters
Possibility of connecting to databases and LIMS systems
Technical Data
Basic Unit (FeliX)
Clean bench (FeliX)
Automation (FeliX)
Weight

approx. 50 kg (without Pipetting head)

approx. 40 kg (without Pipetting head)

approx. 55 kg (without Pipetting head)

Deck Positions
12
12
12

Pipetting Channels

1

–

384
1

–

384
1

–

384
Pipetting Tips

Disposable tips

Disposable tips

Disposable tips

Plate Formats
2

4, 96, 384

2

4, 96, 384

2

4, 96, 384

Tubes

0.2 ml – 5.0 ml

0.2 ml – 5.0 ml

0.2 ml – 5.0 ml

Footprint (W x D)

650 x 450 mm

699 x 450 mm

876 x 503 mm

Height
698 mm
637 mm
668 mm
Volumen Range

1 µl – 1000 µl

1 µl – 1000 µl

1 µl – 1000 µl
Consumables for this Device
Contact us
We are happy to help you and will contact you as quickly as possible.