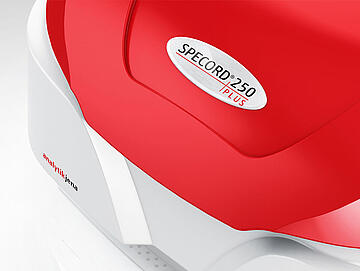 SPECORD PLUS
Maximum precision in UV/Vis
User-friendly: intuitive software, large sample chamber
Versatile and flexible: extensive range of accessories
Powerful and reliable: 10-year long-term warranty
SPECORD PLUS means reliability, user friendliness and flexibility for precise, very easy and versatile UV/Vis analysis.
High-end optics
At the heart of all of our instruments, the optical components are quartz coated and equipped with high-quality encapsulation. They guarantee highest quality, maximum performance and extreme durability. The monochromator with imaging holographic grating enables stray light reduction and absolutely precise measuring results. The minimized number of movable components ensure best reliability, notably improved signal-to-noise ratio and best energy throughput.
Real double-beam
Real double-beam mode for highest precision and a better long-term stability by measuring the sample and reference signal at exact the same moment.
The measurement results always show a current comparison of both beams. This way lamp fluctuation and drifts are corrected by the second beam. Furthermore is a direct compensation of the blanc solution possible.
Convincing details
Innovative CDD technology – two temperature controlled detectors for outstanding long-term stability
Pre-adjusted and voltage stabilized radiation sources
Internal holmium oxide filter for automatic wavelength calibration and for optimized wavelength accuracy and reproducibility
Variable spectral resolution includes the smallest details of the spectrum (SPECORD 210 PLUS / SPECORD 250 PLUS)
The SPECORD PLUS is developed for user friendly operation:
Intuitive software navigation
Self Check System (SCS)
Large, easily accessible sample compartment
Automatic accessory recognition
Multilingual software
No warm-up phase, plug and play
Big, well accessible sampling area
Routine or special analysis – the SPECORD PLUS guarantees flexible operation in all areas of application. Thanks to its extensive range of accessories and the modular software concept the device provides a unique individuality.
SPECORD PLUS Series
Choose the best model for your needs
SPECORD 50 PLUS
Dual-beam photometer with split beam technology for routine qualitative and quantitative photometric applications.
SPECORD 200 PLUS
Double-beam spectrophotometer with fixed slit width for simultaneous measurement of sample and reference signal.
SPECORD 210 PLUS
Double-beam spectrophotometer with five variable slit widths for the simultaneous measurement of sample and reference signal in a advanced measurement range from 185-1200 nm, optimal for the measurement of solutions and solids with highest demands on optical resolution.
SPECORD 250 PLUS
Double-beam spectrophotometer with five variable slit widths and double monochromator for reducing stray light for simultaneous measurement of sample and reference signal, ideal for samples with particularly high absorptions and higher stray light component.
Applications
The SPECORD PLUS offers the right solution for numerous applications. Routine analysis or special application in chemistry, pharmacy, medicine, food control, environment, life science and many other areas – with SPECORD PLUS you are well prepared for all future requirements. UV/Vis spectroscopy is a method of molecular absorption spectroscopy with ultraviolet and visible radiation mainly on liquid samples measured in transmittance or absorbance. Measurements on solid and gaseous samples are also possible. Thereby, one can obtain qualitative information (like purity of substances, substances identification or binding conditions) as well as quantitative information (like concentration via endpoint measurement or via kinetic).
Applications
Using SPECORD PLUS for UV/Vis Analysis of Beer: Color

Palm oil - UV/Vis spectrophotometric quality assessment along the value chain using the deterioration of bleachability index (DOBI) and carotene content according to ISO 17932:2011 (EN)

Huile de palme - Évaluation de la qualité par spectrophotométrie UV/Vis le long de la chaîne de valeur en utilisant l'indice de détérioration de l'aptitude au blanchiment (DOBI) et la teneur en carotène selon la norme ISO 17932:2011 (FR)
Software
SPECORD PLUS is equipped with the comprehensive basic software ASpect UV, which already contains numerous specific tools for individual applications!
ASpect UV with additional software enables intuitive, precise work. It provides complete control, monitoring and logging of all processes from spectrometer to accessories and ensures compliance with FDA 21 CFR Part 11. The system can be connected to an existing LIMS.
Data can be exported in Excel format.
The basic software package contains the modules:
Photometry – for quantitative analyses or biochemical evaluations
Spectrum – for the evaluation and data treatment of spectra
Kinetics – for the measurement and evaluation of time-dependent analyses
Thermometry – for the measurement and evaluation of temperature-dependent analyses
Colorimetry – for the determination of layer thicknesses, color coordinates and color numbers
Additional modules
ASpect UV Validation software for checking specific device parameters using certified standards
FDA 21 CFR Part 11 with user administration, audit trail function and electronic signature of measurement results for absolute data integrity
Cell holder
Standard cell holder, 50 mm
Cell holder, 100 mm
Holder for cylindrical cells
Holder for absorption tubes
Universal holder for accommodation of accessories
Cell holder, 50 mm pathlength, thermostatted
Cell holder, 10 mm pathlength, thermostatted without/with stirrer
Round cell holder
Solid sample holder
Adjustable cell holder for small cells aligned to the sample beam with pathlength 10 mm
Holder for small cells, adjustable accommodation of small cells exactly aligned to the sample beam with pathlength 1/2/5/10 mm
Peltier cooled cell holder, air-colled
Cell holder peltier cooled with stirrer and external heat exchanging
2 cell holder peltier cooled with stirrer and external heat exchanging
Miscellaneous
Cassette sipper system
xyz autosampler APG basic with sample racks for 49, 64 or 116 vials
Diffuse reflectance accessory with integrating sphere
11° – 60° variable angle reflectance accessory
Angle accessory for absolute reflectance
SMA and collimator fiber coupling
Standard immersion probe
Scanning attachment for solid samples
Cell changer
The 6-cell changer is available in the following configurations
Cell changer for cuvettes with variable layer thickness, sample block for cuvettes with 10, 20, 40 and 50 mm thickness, no temperature control, without stirring fucntion
Cell changer for cuvettes with 10 mm layer thickness, temperature control via external thermostats
Cell changer for cuvettes with 10 mm layer thickness, temperature control via external thermostats and with magnetic stirring function
Peltier temperature controlled cell changer with or without magnetic stirring function
The following additional options are available for the 8-cell changers:
Magnetic stirring function
Temperature control with external thermostats
Peltier temperature controlled with or without magnetic stirring function
Cell Carousel
Cell Carousel with 15 vials, not thermostatted
Contact us
We are happy to help you and will contact you as quickly as possible.