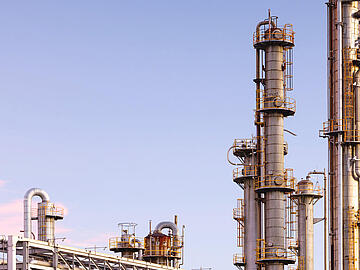 Creating Value Downstream
Analytical Solutions for Oil & Gas
We help you become fully compliant with the strictest regulations and achieve the best product quality by providing tailor-made and easy-to-use lab instrumentation.
Our team of lab experts is sharing their knowledge to help you accelarate your analysis workflows in refining and petrochemistry with web seminars, e-books, application notes, and more.
We are presenting a new method for LPG analysis that greatly improves the safety in your lab and the quality of your analysis results. The analysis times are also much shorter. Even non-specialist personnel can thus safely and quickly measure liquefied pressurized gases/liquefied petroleum gases (LPG) samples. The method only has to be integrated once.
Total sulfur (TS) is a routine parameter in the quality control of fuels. However, analysis can prove challenging as nitrogen interferences can distort results. Now, innovative technologies are available that suppress these interferences and save laboratories a lot of time and effort in the analysis process.
Solutions at a glance
Method
Device
Special Feature
Regulations
CNSX
multi EA 5100

Matrix tolerance and robustness (double furnace)
Intelligent flame sensor ensures quantitative combustion
Fastest horizontal analysis

ASTM: D6667, D5453, D4929, D5808, D5762, D7184, etc.
ISO: 20846, etc.
UOP: 981, 987, etc.

compEAct

Maximum throughput with minimum bench space of < 0.3 m2
Interference-free TS analysis in fuels

ICP-MS
PlasmaQuant MS

Direct analysis of any kind of organic sample matrix
Measurement of nearly undiluted samples for optimum detection limits in sub-ppb range

UOP: 992, 1006, etc.
ASTM: D8110, etc.

ICP-OES
PlasmaQuant 9100

High-resolution provides interference-free access to most sensitive emission lines
Matrix tolerance for analysis of undiluted samples
Detection limits of < 1 ppb for most relevant elements

ASTM: D4951, D5185, D7111, D7691, D8130 etc.
EN: 16576, 16476, etc.
DIN: 51399, 51627, etc.
ISO 22241-2, etc.

AAS
novAA 800

Easy operation with less hands-on time
Compliant with the majority of regulations and standards

ASTM: D3831, D4628, D5184, D5863, etc.
EN: 16135, etc.

contrAA 800

One lamp - all wavelengths between 185-900 nm available
High resolution for easy method development and elimination of spectral interferences

TOC/TNb
multi N/C 2100S

Matrix robustness for challenging samples (high organic content, particles, high salt)

EN: 1484, 12260, etc.
ISO: 20236, etc.

AOX / EOX
multi X 2500

High throughput with automated sample preparation and workflow
Versatile application – analysis of AOX, EOX, TOX, POX

ISO: 9562, etc.
DIN: 38414-S17, etc.