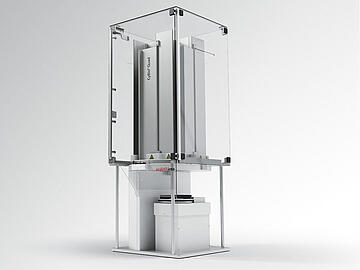 CyBio QuadStack
Compact and flexible microplate storage with four stacks
Rotating stacks
Availability of different access modules
Three different stack heights
Product Details
Ultra-compact and flexible microplate storage with a capacity of up to 232 microplates in four stacks. With rotating stacks and one transfer position, the patented microplate storage solution offers the most compact setup with a maximum of capacity.
Rotating microplate storage on smallest footprint (370 x 380 mm)
Availability of different access modules for versatile operation possibilities
Three different stack heights are available (265 mm / 555 mm / 755 mm)
The ergonomic design with doors guaranteed a comfortable loading and unloading of microplates
Offers the highest flexibility and modularity
What Our Customers Say
"High-quality products and superb service make Analytik Jena an excellent partner for us"
Michael Brehm, Laboratory technology and automation, DKMS LIFE SCIENCE LAB
Contact us
We are happy to help you and will contact you as quickly as possible.