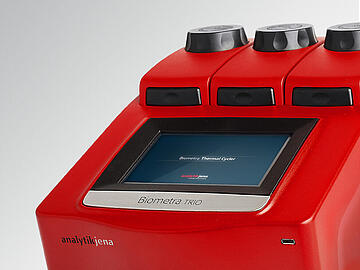 Biometra Thermal Cyclers
30 years PCR competence for research and routine use
Our PCR expertise for your important samples

Suitable solutions for different requirements

Sophisticated operating concepts for error-free PCR results
Simply the Best in PCR
In the Analytik Jena thermal cycler portfolio, every user will find the right device: The Biometra product family offers PCR devices ranging from standard to premium equipment – all designed in line with the common principles of being reliable, convenient, and precise.
Designed for error-free use in versatile laboratory environments: universal block design and heating lid with High-Performance Smart Lid (HPSL) technology for unrestricted use of different plastic containers and plates
Easily optimize your PCR protocols using the Linear Gradient Function (LGT) or the TOS (Temperature Optimization Step) function
Full reliability of your results: The high-precision block temperature control system provides high heating and cooling rates and excellent temperature homogeneity for constant conditions across all sample positions.
Intelligent with detailed precision
Featuring top quality and detailed precision, Biometra thermal cyclers make your lab workday easier and ensure excellent results.
Self-explanatory, rapid operations with graphics and table programming options
Easy to use, thanks to the protocol wizard, and GLP-compliant through the advanced user management in the Biometra TAdvanced and Biometra TRIO systems
Whisper-quiet and small footprint: optimum air flow control ensures maximum performance in any laboratory
Continual information on the device's status through the extended self-test
Biometra TAdvanced and TRIO – Product Animation
The Biometra TAdvanced is the high-performance thermal cycler for DNA amplification by PCR.
The Biometra TRIO is a triple powered thermal cycler for PCR providing three independent sample blocks which can run three different PCR reactions in parallel.
What Our Customers Say
"The Biometra devices have proven to be very robust and reliable for complex PCR reactions."
Prof. Dr. Ralf Küppers, Professor for Molecular Genetics at Insitute for Cell Biology (Cancer Research), University of Duisburg-Essen
Biometra Thermal Cycler Family
Choose the optimal model for your needs
Biometra TOne
The PCR standard for your laboratory
The robust ans easy-to-control thermal cycler is well suited for the most common applications: 96 well with optional 12 column gradient function. Fast pinpoint results can be gained, thanks to a high heating rate of 4 °C/s.
Biometra TAdvanced
State-of-the-art PCR technology
The flexible high-quality thermal cycler with the block quick-change system and 12 different block modules, blocks for 0.2 ml, 0.5 ml tubes/plates and 384 well plates. High heating rates of up to 6°C/s in aluminum blocks and up to 8°C/s in silver blocks can be achieved due to optimal temperature control. An extended user management offers individual user rights for up to 90 users.
Biometra TRIO
Three PCR devices in one
The Biometra TRIO is a unique PCR system that provides you with maximum flexibility, in which three different PCR protocols can run simultaneously.
Highly accurate block control and heating rates up to 5°C/s lead to highly specific and fast results. You can use the three sample blocks for 0.2 ml or 0.5 ml tubes/plates to amplify or incubate a large number of samples at the same time. Laboratories that often use new protocols benefit from this versatility.The professional user management is perfect for laboratories with a large number of users.
Software
PCR Control App
Easy and uncomplicated
In addition to simple programming directly on the device, Biometra PCR thermal cyclers can be accessed through a network via smartphone or tablet. The PCR Control App also allows for the control and monitoring of devices outside of the laboratory, opening up completely new possibilities.
The iOS- and Android-compatible software has much to offer for the Biometra TOne, Biometra TAdvanced and Biometra TRIO:
Live monitoring of PCR runs
Starting and stopping runs
Saving and copying programs
Reading of parameters and notifications
Biometra TSuite
Multiple thermal cyclers, one place
Thanks to the Biometra TSuite software you can intuitively manage, program, and monitor multiple thermal cyclers from the comfort of your desk - regardless of how many you have or where they are located.
The Biometra TSuite thermal cycler management software gives you various possibilities to control and monitor your networked thermal cyclers from a computer. In the dashboard display, you can keep track of all important, current events and access active thermal cyclers directly. Through other windows, you can access detailed information on individual devices, programs, documentation files and general configuration options.
Benefit from many advantages in your everyday laboratory operations:
Suitable for all current models: Biometra TOne, Biometra TAdvanced, Biometra TRIO, Biometra TRobot II
Unlimited number of devices: Connect as many of your Biometra thermal cyclers as you want
Flexible usage: Choose between a mobile single license or multiple network licenses.
Compatible with existing devices: After a simple firmware update, you can use its full functionality.
| Title | Info |
| --- | --- |
| Manual Biometra TOne (Edition 01.21, English) | PDF, 4 MB |
| Quick Guide Biometra TOne (English) | PDF, 502 KB |
| Manual Biometra TAdvanced (Edition 01.21, English) | PDF, 5 MB |
| Short Manual Biometra TAdvanced (Edition 01.20, English) | PDF, 536 KB |
| Manual Biometra TRIO (Edition 01.21, English) | PDF, 4 MB |
| Short Manual Biometra TRIO (Edition 02.19, English) | PDF, 549 KB |
Consumables for this Device
Additional warranty
We extent your warranty
We extend your warranty free of charge to three years for many selected thermalcyclers. Register your product and benefit from the extended warranty. Quickly and easily – free of costs and obligations. You will run no risk.
Contact us
We are happy to help you and will contact you as quickly as possible.