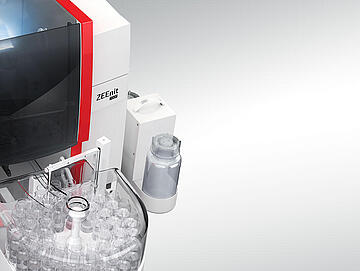 ZEEnit Series
Zeeman AAS for demanding sample matrices
Powerful: wide dynamic range and continuous calibration

Cost-effective: high sample throughput and fast analysis times

Versatile: also for direct solid AAS
ZEEnit Series – full flexibility for demanding users
The ZEEnit series from Analytik Jena represents the latest generation of Zeeman AAS. Both Zeeman-AAS in the portfolio, the ZEEnit 650 P and the ZEEnit 700 P, are compact spectrometers equipped with a transverse-heated high-performance graphite furnace, third-generation Zeeman magnetic field control and powerful deuterium and Zeeman background correction. The ZEEnit 700 P is a compact tandem spectrometer with an additional fully automatic flame mode.
With a plus of innovative features
8-lamp turret suited for coded lamps

Transverse heated graphite tube furnace

Furnace camera to monitor and control sample introduction and combustion in the graphite tube

Deuterium and Zeeman background correction

Optimum adaptation to the analytical task thanks to variable magnetic field strength, 2-field and 3-field correction mode

Automatic optimization routines for flame composition and burner height

Direct solid AAS

Superior aspherical optical system with extraordinary components, such as a quartz coated toric mirror, provides excellent light throughput
High sample throughput & direct solid analysis
Expand your analytical applications, improve precision and achieve higher sample throughput and lower cost per sample.
Versatile sample introduction technology allows liquid and solid samples to be fed manually or fully automatically. Intelligent functions such as dilution and enrichment as well as weighing guarantee a high sample throughput and allow overnight operation.
With a variety of manual or automatic solid samplers, using the ZEEnit for direct solid analysis is child's play. The 3-field mode opens up a multitude of new possibilities, as significantly higher contents can be measured in a wide variety of samples without dilution.
ZEEnit Series
Choose the best model for your needs
ZEEnit 650 P
Zeeman AAS for graphite furnace and hydride technique
Highly sensitive trace analyzer for recurring measurement tasks, upgradeable for direct solid analysis.
ZEEnit 700 P
Zeeman AAS for flame, graphite furnace and hydride technique
The flexible tandem instrument with two sample compartments for flame, hydride and graphite furnace technology, upgradeable for direct solids analysis.
ASpect LS Software Package
Simple, routine handling provided via a single user interface featuring great flexibility – the Aspect LS meets both requirements perfectly and makes analysis simple and uncomplicated. Software functions and modules help to meet all legal requirements and standards.
SOPs for simple method development
Good laboratory practice (GLP): Control charts for statistical quality control along with notifications whenever defined limit values are exceeded – all in order to maintain comprehensive quality
Compliant with FDA 21 CFR Part 11
Safety first
All safety-relevant parameters are continuously monitored by various sensors:
Maximum operating safety in flame mode
Electrical safety
Automatic control of all gas flows
Unattended operation, including overnight, in graphite furnace mode
Performance-enhancing accessories improve precision and sample throughput. They help you meet the challenges of complex matrices in flame, graphite furnace, and hydride modes as well as direct solids sampling.
Contact us
We are happy to help you and will contact you as quickly as possible.