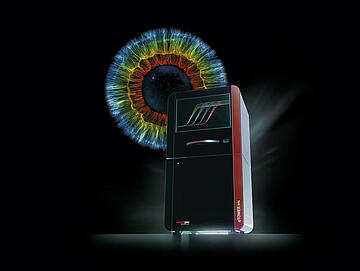 The Full Spectrum of qPCR
Our New Real-Time PCR thermal cycler
Every discovery is shaped by the quality of the equipment. With the qTOWER iris, you're investing in a truly open system capable of performing any task within the qPCR world. This empowers you on your journey through the world of genetic information, allowing you to select exactly what you need – no more, no less.
Feel Free to Explore
Geared for Discovery
The Real-time PCR Thermocycler qTOWER iris empowers your exploration. It equips you to meet your current and future needs in qPCR, as a truly open system: You are free to choose what it takes for your venture – from consumables, assays, to color modules. The instrument can hit six targets at once. And for your peace of mind, you can count on a system designed for long-term use that operates quietly and smoothly, providing uniform precision across every well.
The complete spectrum
Clear signals from UVA to near infrared, multiplexing for up to six targets simultaneously
Freedom to choose
All commercially available dyes, consumables, reagents, and assays
Color modules
Free selection and ability to purchase later
Application support
Straight from the manufacturer
Free access
All raw data are freely accessible, or processed as interpolated curves
Unparalleled temperature accuracy
± 0.15 degrees Celsius (industry standard: up to ± 0.4 degrees Celsius)
And in terms of noise
it's barely audible.