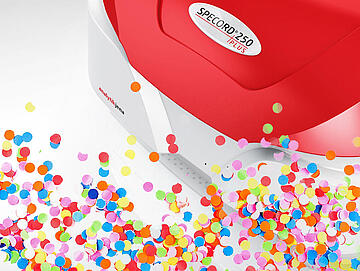 Analytik Jena celebrates 60 years of SPECORD technology
Wed 10 May, 2023
Analytik Jena celebrates 60 years of SPECORD technology
In times of disruption and constant new developments, it is an extraordinary feat to celebrate the 60th anniversary of a technology that has lasting appeal – our proven SPECORD analysis technology. Its success story started 60 years ago and continues to this day thanks to a consistent focus on innovation, precision and quality. We will show the origin and further development of the SPECORD instruments and how tradition and innovation make a successful combination.
The basis of SPECORD technology at Zeiss
At the beginning of the 1960s, VEB Carl Zeiss Jena forged ahead with the development of a new type of dual-beam recording device for the UV/Vis wavelength range. The essential device components underwent extensive testing, starting in 1963. In 1968, the time had finally come for the market launch and trademark registration.
The new device was named SPECORD UV VIS, a combination of "SPEC" for "spectral", "CORD" for "record" and "UV VIS" for the wavelength range. The product name illustrates the features that every SPECORD instrument still has today: The automatic scanning of wavelengths from ultraviolet through visible to the near infrared range with synchronous recording of the transmission or absorption of a sample, resulting in a spectrum.
In addition to key milestones, such as the transition from recording the measurement results on paper to digital recording and digitized data storage with the SPECORD M 42 and SPECORD M 400 instruments introduced in 1988, there were also numerous smaller development steps that improved the instrument according to growing demands. These enhancements culminated in the introduction of the SPECORD M 40 device in 1981. Not only was this controlled by a microprocessor, but it also used several diffraction gratings to disperse the light instead of a prism, thereby creating the basis for subsequent, more compact devices. In 1992, development at Zeiss concluded with the SPECORD M 500, the first SPECORD controlled by a PC.
Further development of SPECORD technology at Analytik Jena
When Analytik Jena acquired the analytical instrumentation business unit from Carl Zeiss at the end of 1995, it also took over 30 years of SPECORD technology. Before its brand launch as SPECORD 200 in 1998, the SPECORD underwent a decisive further development. The basic optical concept was changed to a fixed beam splitter, the number of gratings was reduced to one in the form of an imaging diffraction grating, and two silicon diodes were used as receivers instead of a secondary electron multiplier (SEV). This enabled more variable integration times adapted to the measurement tasks, a more compact design in a plastic housing and an extension of the wavelength range from 900 to 1100 nm.
Since 2000, the development of instrument families has resulted in different product ranges with numerous instrument variants adapted to the respective customer requirements. Consequently, the same plastic housing is used for SPECORD 40 or 30 devices with only one measuring beam as well as devices such as SPECORD 50 with an additional reference channel before entering the sample chamber. All variants are available as solely PC-controlled devices, or with an additional built-in internal computer as stand-alone devices.
From 2000 to 2004, the classical two-beam units with a measuring and reference beam path in the sample chamber were taken out of their original product family and brought to the market with a modified technological and external design as a family of 13 variants. The instrument control computer became a modern single-board computer and the stand-alone instruments also received new internal computers with standardized operating systems and touch displays for more convenient PC-like operation.
Since 2004, this family has also included a SPECORD 250 with an additional grating to enable even lower stray light and therefore an extended linear measuring range of absorption or transmission. Due to a modified sample chamber rod concept, newly developed multi-cuvette accessories can also be used with Peltier temperature control. Starting in 2006, upgrades to the SPECORD 40 and 50 included adopting the control computer and the sample chamber rod concept, improving and expanding their functionality.
The pinnacle of the series – SPECORD PLUS
A new generation launched in 2010, the SPECORD PLUS series, which offered even greater performance and precision in the field of UV/Vis spectroscopy with optimized variety in equipment, ease of maintenance and manufacturing technology. With these double-beam spectrophotometers, sample and reference materials could then be measured even faster due to an improved stepper motor drive and the conversion of the analog measurement signal by an 18-bit AD converter. An improved thermal concept significantly reduced the run-in time and guaranteed excellent long-term stability.
The SPECORD PLUS series exploits the possibilities of UV/Vis spectroscopy like no other: Liquid, solid, powdery as well as gaseous samples can be measured, both qualitatively and quantitatively. It is therefore suitable for an incredible range of applications – from routine analysis to specialist tasks in the fields of chemistry, pharmaceuticals, medicine and life science, food safety and agriculture, water and wastewater analysis, environmental analysis and much more.
Shorter measuring times combined with better photometric properties and continuously optimized software guarantee automated processes and thus improved economy. Extensive validation tools, which combine measurement tasks as well as reporting and archiving, also make lighter work of daily laboratory routine. The concept of the SPECORD PLUS series still leaves room for continuous optimization, improvement as well as expansion of both the family program and the performance parameters of existing devices.
Since the end of 2012, the diversity of the instrument family has been complemented by the split-beam instrument SPECORD 50 PLUS. A larger wavelength range from 185 to 1200 nm extended the scope of the SPECORD 210 PLUS by more than 100 nm in 2016, a year that also marked the availability of a significantly lighter design for all devices.
SPECORD 50 PLUS
Double-beam photometer with split-beam technology
For the spectral range 190 to 1100 nm
Pharmacopeia-compliant resolution
High energy stability due to internal reference measurement in split-beam technology
Ideal for highly concentrated or contaminated samples (e.g. wastewater analysis)
Compared to the SPECORD 200 Plus, better suitability for the use of the integration sphere even with large samples
SPECORD 200 PLUS
Dual-beam photometer with fixed slit for the simultaneous measurement of sample and reference signal
For the spectral range 190 to 1100 nm

Pharmacopeia-compliant resolution

Good signal-to-noise ratio

Ideal for low-concentration samples (e.g. drinking water analysis)
SPECORD 210 PLUS
Dual-beam photometer for the simultaneous measurement of sample and reference signal
Extended wavelength range from 185 to 1200 nm

Variable slit width for optimal adaptation of the required resolution in relation to the energy intensity

Better long-term stability due to Peltier-tempered detectors

Lowest baseline deviation

Suitable for a wide concentration range

Good suitability for use in solid analysis with integration sphere and reflection accessories
SPECORD 250 PLUS
Double-beam photometer for the simultaneous measurement of sample and reference signal
For the spectral range 190 to 1100 nm

Lowest stray light values due to pre-monochromator

Variable slit width for optimum adaptation of the necessary resolution in relation to the energy intensity

Best signal-to-noise ratio due to Peltier-cooled detectors

Good suitability for use in solid analysis with integration sphere and reflection accessories for samples with necessary high stray light suppression
Extensive accessories for extended flexibility
Over the past 20 years, Analytik Jena has focused not only on further developing the technology, but also on developing a wide range of accessories. These equip the SPECORD devices perfectly for their respective field of use and enabling specific applications – from routine analysis to special solutions. Analysis is not only limited to liquids; powders, solids and even gases can be analyzed as well. The main focus is on multi-cuvette accessories, including Peltier-tempered, and the integration of autosamplers, which enable automated measurement sequences for a large number of samples. This modularity of the SPECORD accessories also ensures the future scalability of the application possibilities.
ASpect UV – Standards-compliant software for every range of applications
Comprehensive basic software and many special features offer the perfect solution for effective routine laboratory applications – even highly specific tasks.
From basic data handling and extensive statistical functions for quantitative analysis to the editor for individual formula creation – the intuitive yet comprehensive SPECORD software, ASpect UV, delights users with extensive functions for customized yet simple evaluation. At the same time, it meets all requirements for data security, transparency and traceability according to FDA 21 CFR Part 11.
The Life Science program package features numerous pre-programmed bio-methods such as DNA purity determination, Warburg Christian, Scope, Kalb and Bernlohr formula for the quantification of nucleic acids and proteins. Various pre-programmed methods for enzymatic determinations in food, for the medical field, and for water analysis add the finishing touch to the comprehensive range of applications. Time-controlled reactions can be evaluated using the kinetics tool. Validation software guarantees the verification of all important instrument parameters according to internal or external quality regulations (incl. Ph. Eur.) and checks the technical instrument status. An additional tool for standard-compliant color determination allows, for instance, the calculation of color coordinates using the various standard illuminants, color numbers and the white/yellow index.
The 5000th SPECORD PLUS
Analytik Jena still feels closely connected to the historical achievements of Carl Zeiss and Ernst Abbe and continues to stand for the highest "Made in Germany" quality standards.
Since 1995, Analytik Jena has committed to continuing the success story of SPECORD technology and decisively shaping the development of spectrophotometry. In addition to the numerous models for specific application challenges, it is the accessories and the easy-to-use software that particularly enable flexible, simple and efficient analysis. These features ensure SPECORD instruments still rank among the most user-friendly, versatile and reliable analytical instruments worldwide.
In the 60th anniversary year of the SPECORD technology, Analytik Jena is pleased about the 5000th SPECORD PLUS, which will leave production in May 2023. The 2000th SPECORD 200 PLUS was also delivered to the customer in April 2023. Furthermore, Graz University of Technology will receive two SPECORD 50 PLUS, one of which is the 1000th SPECORD 50 PLUS. The photometers are used at the Graz University of Technology in the context of the education of chemists, environmental system scientists and process engineers in laboratory exercises in analytical chemistry. The numerous anniversaries show that the SPECORD Plus family is alive.