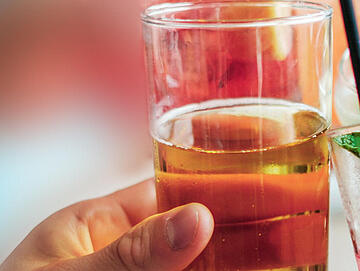 Analysis of Beverages
Monitoring of toxic metals, pathogens, and spoilage germs
Analysis of minerals, fats, proteins, color, and turbidity
Origin and species analysis of wine
We help producers of non-alcoholic and alcoholic beverages, and drinking water to keep their quality, safety, and authenticity promises with analytical solutions that can be tailored to the requirements of your lab.
Authenticate your claims more easily
Species identification with maximum specificity based on unique DNA sequences
Fast and accurate isotope ratio analysis
Get better results
Simple and robust analysis
Cost-effective and easy-to-use technologies
High-throughput analysis for contract labs
Flexible instrument configurations
Minimal sample preparation
Accelerated microbial detection, including pathogens as well as fermentation microorganisms, using stream- lined PCR-based methods
Analyze with us
Toxic metals, micro and macro elements (e.g., Ca, K, Na, P): AAS, ICP-OES, ICP-MS, C/N/S/X
Element speciation analysis (e.g., As, Hg): LC-ICP-MS
Microbial detection including pathogens (e.g., Listeria spp.): Nucleic acid extraction kits, thermal cycler, real-time thermal cycler, detection assays (PCR and real-time PCR)
Origin analysis: Isotope ratio ICP-MS
Color, proteins, phosphates, fats & active compounds: UV/Vis
Total organic carbon and total bound nitrogen: TOC, TNb
GMO analysis of food additives: Nucleic acid extraction kits, thermal cycler, real-time thermal cycler
Quick and easy access to critical parameters allows you to efficiently assess feedstock characteristics, manage processes, and approve final products such as non-alcoholic and alcoholic beverages, and drinking water.
In this web seminar Analytik Jena is highlighting analytical methods for the reliable and efficient determination of various elements, elemental species, TOC (Total organic Carbon), CO2 from wine, beer, water and juice samples.
Preventative healthcare through beverage analysis
Consumers and politicians are becoming increasingly sensitive to the quality of food – and rightly so, since food is a decisive factor for health and quality of life, while at the same time harboring high health risks. This also and especially applies to beverages, first and foremost drinking water. Beverages are fundamentally important for nutrition and health, providing vital nutrients. It is for this reason that impurities or inferior quality have disastrous effects. The World Health Organization (WHO) considers access to clean drinking water to be a fundamental human right and a component of effective health policy.
Strict guidelines, high requirements, exact beverage analysis
Accordingly, consumers expect special attention from legislators. This is reflected worldwide in strict laws, guidelines and limits. Manufacturers, like governmental and independent supervisory authorities, are required to closely monitor ingredients as well as finished foods using state-of-the-art technology for beverage analysis. High sample volumes must be processed quickly, as impurities detected too late can have fatal consequences. The following are analyzed for this purpose:
Elements harmful in large quantities, e.g. in drinking water, such as antimony, arsenic, boron, cadmium, chromium, copper, lead, mercury, nickel and aluminum
Mineral contents in soft drinks (package information) such as calcium, potassium, magnesium and sodium
Metal impurities, sodium, zinc, manganese and calcium for quality-control purposes in the brewing industry
Species identification and allergen identification at DNA level
Beverage analysis also plays an important role for proof of origin, for example to detect counterfeit or inferior products. This serves both to protect consumers as well as to safeguard manufacturers and it affects finished products as well as raw materials.
Poison or not? Exact beverage analysis is the answer
For many elements to be analyzed, Paracelsus' quote "the dose makes it clear that a thing is not a poison" applies: Too little can lead to deficiency symptoms and too much can cause diseases. The various physicochemical forms of many elements differ in terms of mobility, toxicity and bioavailability. Some inorganic arsenic species, for example, are highly toxic, while other organic arsenic species are not as much. This illustrates the high demands on accuracy, sensitivity and diversification of food and especially beverage analysis: Pure total amounts or too insensitive measurements are often insufficient in beverage analysis.
Professional beverage analysis with Analytik Jena's solutions
Analytik Jena offers you state-of-the-art and proven technology to carry out your beverage analysis processes quickly and reliably. The comprehensive portfolio of beverage analysis applications is dedicated to the precise, sensitive, and specific determination of safety and product quality control parameters, including:
Pathogen analysis
Detection for dissolved pigments (e.g. color measurement)
Proof of origin/food authenticity
Quality parameters in (drinking) water analysis (UV/Vis)
With Analytik Jena's solutions – standardized or, if required, individually tailored to your needs – you can perform your beverage analysis tasks reliably and quickly and thus ensure safe, harmless foodstuffs.