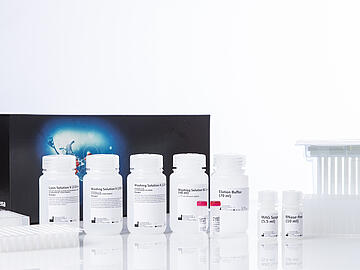 innuPREP Blood DNA Mini Kit - FX
Ready-to-use application for extraction of genomic DNA
Product Details
Automated procedure including lysis
High throughput application for up to 96 samples in parallel
Diverse starting material: fresh or frozen whole blood samples stabilized with EDTA, citrate, heparin or collected in PAXgene® Blood DNA Tubes
Flexible application: protocol for 200 µl and 400 µl
High yield and high purity DNA
The innuPREP Blood DNA Mini Kit-FX has been designed for automated extraction of genomic DNA (gDNA) from whole blood preparations including fresh or frozen whole blood samples stabilized with EDTA, citrate or heparin and even collected in PAXgene® Blood DNA Tubes. The extraction protocol is established on CyBio FeliX based on sample volumes of up to 400 µl. The extraction process is based on binding the nucleic acids to magnetic particles. The procedure starts with the lysis of the starting material. After washing steps the nucleic acid is eluted from the magnetic particles with RNase-free water. The protocol is optimized to obtain DNA of maximum yield and quality which can be used for downstream applications like standard or real-time PCR. The extraction procedure is based on the Dual-Chemistry (DC) technology patented by Analytik Jena.
In order to minimize manual preparation steps for this kit the innuPREP Prefilling Set (OL3317-25-127) offers the possibility of automated prefilling of all Deep Well Plates with respective buffers and reagents by the CyBio FeliX.
Specifications
Starting material
Up to 400 µl whole blood
Fresh or frozen blood
Stabilized with EDTA, citrate or heparin
PAXgene® Blood DNA Tubes
Average yield
Depending on sample quality/amount of mononuclear blood cells
200 µl whole blood approx. 2 – 8 µg
400 µl whole blood approx. 2 – 12 µg
Extraction time
Up to 200 µl whole blood: 70 min
Up to 400 µl whole blood: 86 min
Order Information
Order number
Quantity
845-FX-2296096
96 reactions
845-FX-2296480
480 reactions
Note: The kits can only be used with the CyBio FeliX.
---