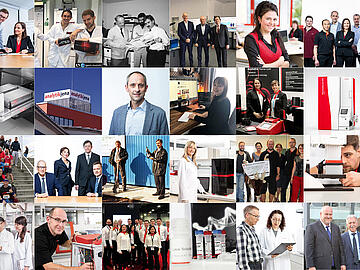 Analytik Jena Stories
about customers, partners and employees
Read, watch and experience amazing stories from customers, employees and partners. See Analytik Jenas' history through the eyes of the people that helped shape the company over the years. Learn about incredible applications and customer cases realized with instruments and expertise by Analytik Jena.
Ulrich Krauss, CEO of Analytik Jena
"The history of Analytik Jena is a good example of innovation and progress. Many special people have shaped the company over the years. We would like to thank these people and tell their stories in our anniversary year. With this, we take a look back at what has been achieved, but above all we look forward into the future. We are not standing still and are not resting on the successes of the past. Analytik Jena's goal is to remain one of the world's leading providers of innovative laboratory analysis equipment and techology in the next 30 years."
Grit Petzholdt-Gühne, CHRO of Analytik Jena
"We create conditions that give our employees a great deal of freedom. Our corporate culture, which has grown over many years, connects us with our customers. Particularly important is the daily value-oriented interaction with one another, because only a community of values can also be a performance-oriented community."
previous
next
Partner Stories
CCS Services Russia
CCS Services is a well-known and highly trusted instrumentation provider in Russia and adjacent regions. The company supplies top laboratories in Russia, Kazakhstan, and the Ukraine with analytical equipment. For over 30 years, the company has stood for the best laboratory analysis and closest proximity to customers in its market.
FKV Italy
FKV is one of the most prestigious providers of analytical equipment and expertise for laboratories in Italy. The Bergamo-based company has been one of the closest partners of Analytik Jena for 15 years. Read how FKV and Analytik Jena bring more analytical excellence to the labs of Italy.
You want to know more? Contact us.