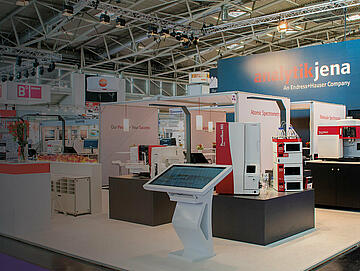 analytica virtual 2020
Highlights
Analytik Jena highlights from analytica virtual
Products, insights and applications
Analytica - the world's leading trade fair for laboratory technology, analysis and biotechnology took place in a new format in 2020 due to the COVID 19 pandemic. At the purely virtual trade fair, you could visit our digital booth and learn more about our products and gain valuable insights into applications and instruments. We have summarized all topics for you here. Discover also our exciting web seminars from analytica virtual.
Watch our web seminars from analytica virtual 2020:
Keeping edible oil safe - how elemental analysis contributes to food safety and quality
Dr. Angela Gröbel, Product Manager Elemental Analysis
Dr. Sebastian Wünscher, Product Manager ICP-OES

Watch now

A role for Biofoundries in rapid development and validation of automated SARS-CoV-2 clinical diagnostics
Prof. Paul Freemont, Imperial College London

Watch now

EOF – a new screening parameter for organically bound fluorine in surface water
Anja Jungnickel, Product Manager AAS

Watch now
You have questions or remarks? Get in touch with us. Visit our contact page for all contact information in your region or write us via our contact form or the comment function.